Case Study
Case Study: Early Identification of ASD Surveillance and Screening
This case study demonstrates how the processes of surveillance and screening begin during a visit to a primary care physician and result in referral for additional evaluation, diagnosis, and intervention. You may test your learning by answering the questions provided.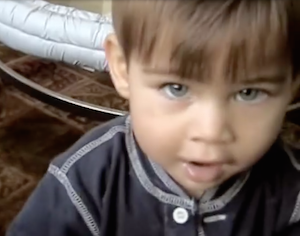 ALEX
Alex is a 16-month-old boy who is at the pediatrician's office for an ear infection. In passing, his parents mention that they are also concerned that he isn't yet speaking.
What should the pediatrician do next?
The pediatrician asks Alex's parents a few questions, such as whether he responds to his name and enjoys social games. They respond that he likes to play peek-a-boo with them, but that it can be hard to get his attention by calling his name.
What other questions might the pediatrician ask?
The doctor also asks about Alex's babbling and whether he uses gestures like pointing to get his needs met.
What screening tool would you use to assess Alex's risk of autism?
The pediatrician asks Alex's parents to fill out an autism-specific screener, the M-CHAT. His score is right at the cutoff for "high risk."
What should the pediatrician do?
The pediatrician refers Alex to the Part C early intervention program so that he may start services as early as possible, regardless of a diagnosis. Concurrently, she made a referral to a community program/clinic for toddlers with potential developmental difficulties, including autism, The purpose of the later referral was to request a comprehensive developmental evaluation to begin the diagnostic process for a potential autism spectrum disorder. She also refers Alex to an audiologist to have his hearing tested.
What should the pediatrician be cautious about?
Diagnoses should not be made on the basis of screening tests alone.

As you will learn in this module, signs of autism often emerge slowly during the first 18 months of life. The clinical presentation is not always as clear as it is in older children.

It is important for a professional with expertise in the earliest signs of autism to perform the comprehensive evaluation, using validated instruments appropriate for Alex's developmental level.

Many more children who fail screening tests will have communication delays (e.g., speech delays) than autism.

The stability of diagnosis prior to age 3 is good, but not as good as after age 3. Therefore, it is important that any child diagnosed before 3 years be re-assessed after this age to examine the accuracy of diagnosis. Also, parents should be told that there is some diagnostic uncertainty at this age.
What happened to Alex following this?
The early intervention program found Alex eligible for early intervention services, resources, and supports due to delays in his language development and differences in his social relatedness with others.
As Alex's second birthday approached, the early signs identified on the M-CHAT became more pronounced, plus other characteristics of ASD were emerging. The comprehensive evaluation resulted in an initial diagnosis of autism.
Recommendation for re-evaluation was suggested when Alex turned three. The family was given information about intensive services that Alex may benefit from in addition to those he received through the Part C early intervention program. The audiologist did not find a permanent hearing loss, but found that he had some fluid in his ears that may have been causing some interference with his hearing.